Half Term Changes!
We have been very busy this October Half Term, with a few exciting changes. We have had an amazing History timeline installed in our corridor, showing events from the Stone Age to modern day. The children will have fun spotting the building of Capel school on it!

We have also given our library a facelift, can you spot your favourite book on our newly decorated windows? And finally, our main hall now perfectly reflects our Capel values, with a large banner sitting proudly above the doors.

We are also delighted to have our new 'Haven' installed, with our interior finishes happening soon. The Haven will have multiple uses within the school, serving lots of our children. It will provide a Haven for students who need a calming space, this may be for addressing sensory needs, providing respite from the playground, or simply a quiet, safe environment. We are working with the PTA to ensure it has the equipment we need, and we hope to have it up and running very soon.
Fantastic Fred Visitors - October 2021
The Fantastic FRED Experience is a FREE live performance-led mental health resource for primary aged children delivered by a team of trained actors.
Children were able to take part in a live, interactive and engaging performance delivered inside an immersive mobile classroom.
Specifically designed to inform, equip and build resilience, it delivered simple, memorable and practical ways that our children can look after their mental health and explains the link between our physical and mental health.
The children consider the healthiest ways to approach Food Rest Excercise Devices. They consider ways to eat a balanced diet, how rest helps them to think more clearly and manage their emotions and how exercise can boost the way they feel. They also consider sensible use of devices, not only the how, but also when.
The classes were entertained and educated brilliantly and we would like to thank the NHS for providing this fantastic resource.
Enrichment Day June 2021
We were so lucky with the sunshine this week, as we enjoyed a wide range of sporting activities provided by The Outdoor Learning Company. It was amazing to see the children show courage and resilience as they tried new things, and many surprised themselves with how well they did. We were all so impressed with the way the children supported each other as they tried climbing, aeroball, laser tag, team challenges, skateboarding and much more.
5th May 2020
Today a photo of our school appeared in a national newspaper! It showed the fantastic art display dedicated to the NHS created by Miss Montgomery, Mrs Wickham and the children of some of our key workers. It's such a lovely photo of the school too, displaying our beautiful blossom tree. Thank you to all who helped create this.
ENRICHMENT DAY 20th March
Embracing a Growth Mindset Approach to overcome obstacles and work towards our aspirations.
On Tuesday, we were lucky enough to be visited by two inspirational speakers who motivated us to approach life and learning with a growth mindset.
Our first speaker was George Fouche— a retired South-African Rugby player and Olympic Coach—who shared how he has overcome obstacles in his own life. George grew up in in a challenging situation and had few aspirations or expectations for himself. However, through his love of Rugby, opportunities were presented and he learned very quickly to grab them with both hands. Throughout his life he faced difficulties, including a devastating injury that left him unable to walk for a long time. He talked to us about the importance of asking for and accepting help, of taking life's opportunities and never giving up. He carried out workshops during the day with our younger pupils, setting them tricky tasks and emphasising the teamwork and support needed to complete them.
We also had Tim Hall from Bego Coaching lead our Year 4, 5, and 6 pupils through a series of tasks to enable them to explore the learning process and the importance of perseverance. They considered how important their attitude and approach was to education, that it was essential for them to be an active participant and to be in the driving sea of their own learning. Through simple tasks such as a pencil magic trick and juggling, they could see the vital steps that they needed to go through before they could be successful. It really showed them that instant success was not realistic, that hard work and effort were the keys to success.
We would like to thank both of our speakers for their time and words of wisdom. We know it will support our children in their learning behaviours and be a fantastic example as they face little challenges in life.
Dare to Dream update 12th March - Football with Chelsea FC!
On Thursday, some of our aspiring footballers had a chance to experience their aspiration through our 'Dare to Dream' opportunity. We were visited by Steve Tapley who is Assistant Development Manager from Chelsea FC. He put our children through their paces in a coaching session that honed skills that would be practised in formal football club training sessions. He talked to our footballers about how to get into a footballing career, his history of playing for England under 15s and with Fulham and also shared with the children other aspirations that could link in with their skill sets, for example coaching. The children all had massive smiles on their faces by the end of the session and spoke with Steve about all their individual footballing aspirations.
Dare to Dream update - Science week, fossils experience!
This week we have been celebrating all things science! 2 of our children are aspiring fossil hunters so when geologist expert, Mr Sandy came to visit they had a great opportunity to quiz him about what it is like to be a fossil hunter. They also spent some 1:1 time with Mr Sandy to investigate some of his collection and ask him specific questions. We look forward to seeing what they dig up in the future!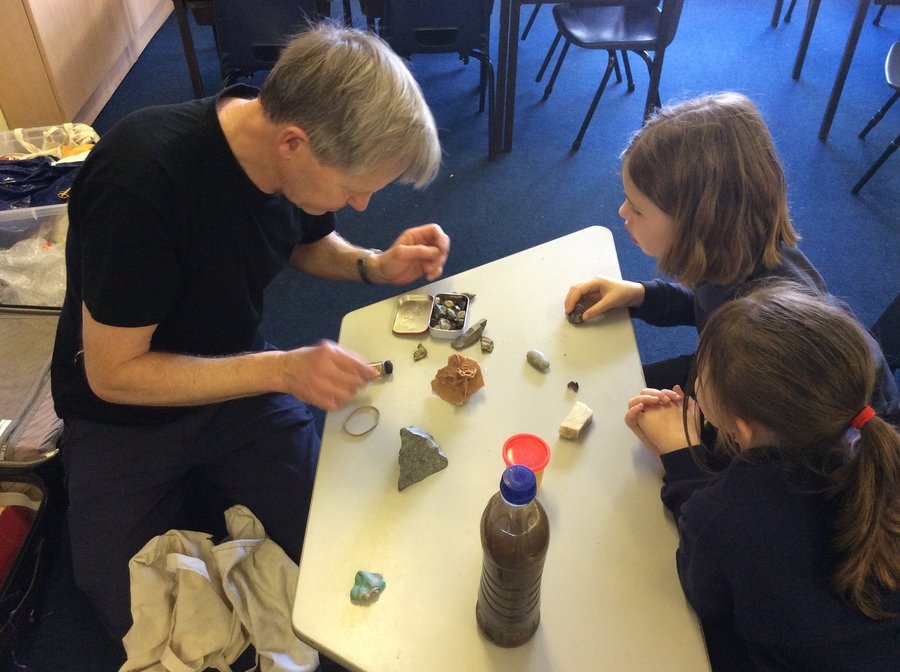 World Book Day 2020
Thursday was a very special day at Capel as we celebrated World Book Day. So many of our children chose to dress up as their favourite book character and shared their very best books. In our special assembly, Mrs Waters led them in a book fashion parade where they posed as their favourite characters, some staff shared a summary of their favourite books and we learned about the fantastic book vouchers that they would receive. Throughout the day there were collaborative reading sessions between classes and a chance to explore the e-books. Finally, we were visited by our parents and carers at the end of the day to share a book. Each class had family members reading to each other, finishing the day in such an important way. Mrs Waters also received lots of entries for our Reading Vipers Poster competition and the lucky winner was announced in our Friday Assembly. First prize went to Jamie in Year 4 and he is the lucky winner of a voucher. Thank you to everyone who supported the children throughout the day and with their costumes.
DARE TO DREAM 27th February
On Thursday, Mrs Waters arranged for a very special assembly. Some professionals from our local area volunteered to take part in a 'What's my line?' quiz. The children had to ask questions to try and determine their career. The range of careers was stockbroker, nurse, events manager, international development analyst and an Emergency Manager. It was very important to us that we try to broaden the children's knowledge of the types of jobs that exist to open up possibilities for them. It was fantastic to see the children use their investigative skills, asking a wide range of questions and making some educated guesses.
Years 5 and 6 were then able to take part in a 'networking' session with our visitors. They asked them more in depth questions about their jobs, what they liked about them and the career path that they took. For some of our children it encouraged them to think about certain subjects that they love and how they can use that to their advantage, for others it inspired them to want to go to university with specific courses in mind.
For any parents out there who feel that they would like to be involved in such a project, you may be interested to know that we have been working with Primary Futures who help volunteers match up with local schools.
Young Voices 2020
Huge thank you to Mrs Haffenden for organising this year's trip to Young Voices. The choir and their families had a fantastic time. The main message from the organisers of Young Voices was about having a Growth Mindset and tackling problems with resilience. This is so reflective of our approach to learning, and we were able to see it in action all day. The singing was beautiful and I know many of our children are itching to go back next year.
Dare to Dream update - 23rd January
On the 23rd of January we had a visit from Ray from the RNLI. Molly (year 6) had stated her aspiration as joining the RNLI. Ray talked with the whole school about seaside safety and shared some of the work that the RNLI do. He then spent some time in a Q&A session with Molly where he gave her some great contacts and talked to her about how she could get on track to start following her aspiration!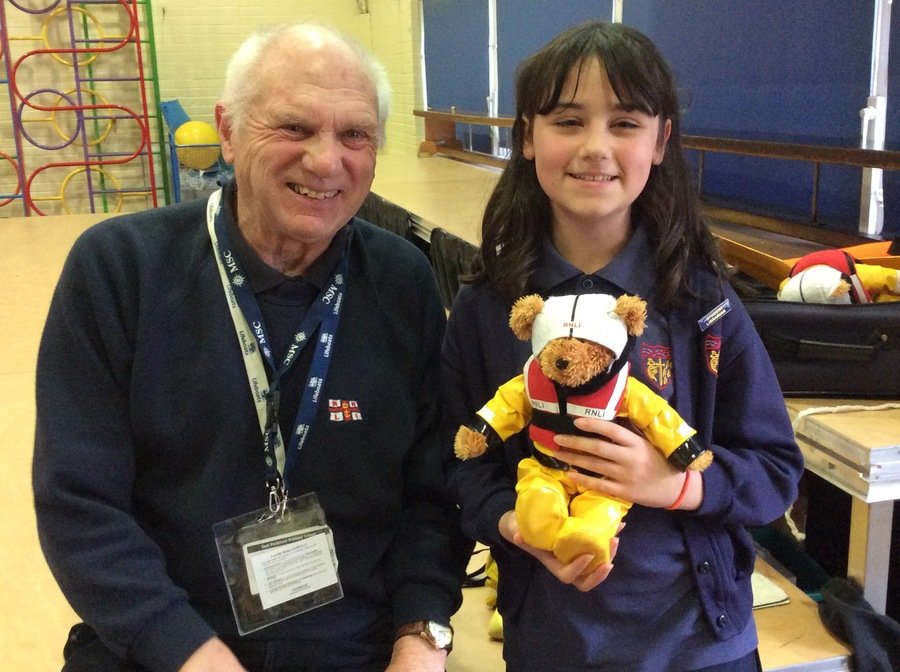 Dare to Dream update - 8th January
In preparation for the arrival of the guinea pigs that will soon be part of our Capel family we had a visit from the RSPCA. They told us all about how to care for pets and look after animals. Some of our aspiring animals then got to meet the RSPCA worker to ask her all about how she got into her role and what it was like to work for this charity. They asked some great questions and received some super advice about their future plans!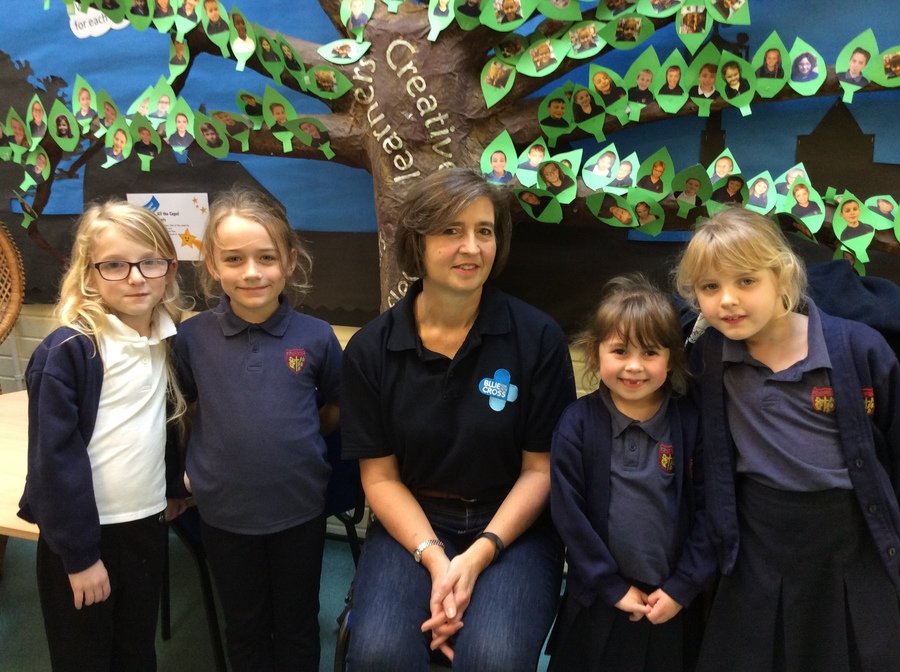 Dare to Dream update - 20th November
We had the author Grant Strong visit our school. He talked about the book that he had written and then spent some time with a few of our children who are aspiring to be authors as part of our 'Dare to Dream' initiative. The Dare to Dreamers got to ask Grant all about what it had taken him to become an author, they then quizzed him for some advice on their own books that they were writing, leaving them feeling very inspired to get writing!