Welcome to Year 5!
Hello and welcome to year 5!
Class Teacher: Mrs Barrett
Class HLTA: Mrs Blakeway
P.E. is on Monday and Wednesday. Please remember to wear full PE kit (navy joggers/shorts, white top (or house colour), school jumper, suitable trainers)
Homework is due on a Tuesday, and is set on a Wednesday.
Chocolate making workshop
Year 5 went on a school trip to a chocolate making workshop. We learnt about the origins of chocolate which linked to this term's project all about the ancient Maya. We also learnt about the production of chocolate and got to craft some goodies ourselves to take home as a treat.
'My favourite part was making the Mayan face.'
'It was really fun making all the different types of chocolate.'
'We learnt how to making truffles and I covered mine in sprinkles. We also got to try ruby chocolate!'
'We were able to try cocoa nibs (which were horrible) along with other types of chocolate I had never eaten before and I learnt lots of new facts.'
Enrichment day
As part of our enrichment day this term, year 5 explored the question 'How do animals enrich our lives?'. Below you can see lots of photos including our special guests.
Art day!
As part of our Art day we focused on the artist Georgia O'Keeffe. We looked at and discussed a range of her work and learnt about what abstract and bio morphism meant. We then used the Ipads to take focused, clear photos outside, zooming in on nature. Next we used our chosen photographs to experiment with layering paint and creating textures. We then used what we had learnt and applied this to our final piece.
We have continued exploring all about the ancient Mayan civilisation and today we were exploring how things have changed from the past. Below you will find some pictures of us creating our own number sequences using the Mayan notation system. Did you know they used base 20 when constructing their numbers?
Launch of our new project.... 'The Maya!'
Today we launched our new topic all about the Ancient Maya Civilization. We learnt that they believed the Gods delivered a cacao tree to them and from there on began CHOCOLATE! We even got to try some chocolate today and write about our experience eating it considering our senses.
Cooking
Year 5 have been learning a range new skills within their cookery lessons. This week we learnt about healthy fats in our diets and made halloumi fries. We learnt how to breadcrumb the cheese ourselves and then cooked it to perfection!
Mental health and wellbeing week
Year 5 have celebrated mental health and wellbeing week in a variety of ways. These include learning what being resilient is and creating a resilience person, by taking part in emotions and strategies scavenger hunt as well as thinking about the power of a positive mindset and the impact of working beyond your comfort zone.
Online safety week
In year 5 we thought about how to stay safe online, especially when playing online games. We learnt about the different features many online games have as well as their positives and negatives. We then went outside and used the parachute to answer some key questions to test our understanding. We were also lucky enough to have a visit from our year 6 online safety ambassadors who shared other important messages on how to keep ourselves safe such as what cyber-bullying is and how to get help if we are worried.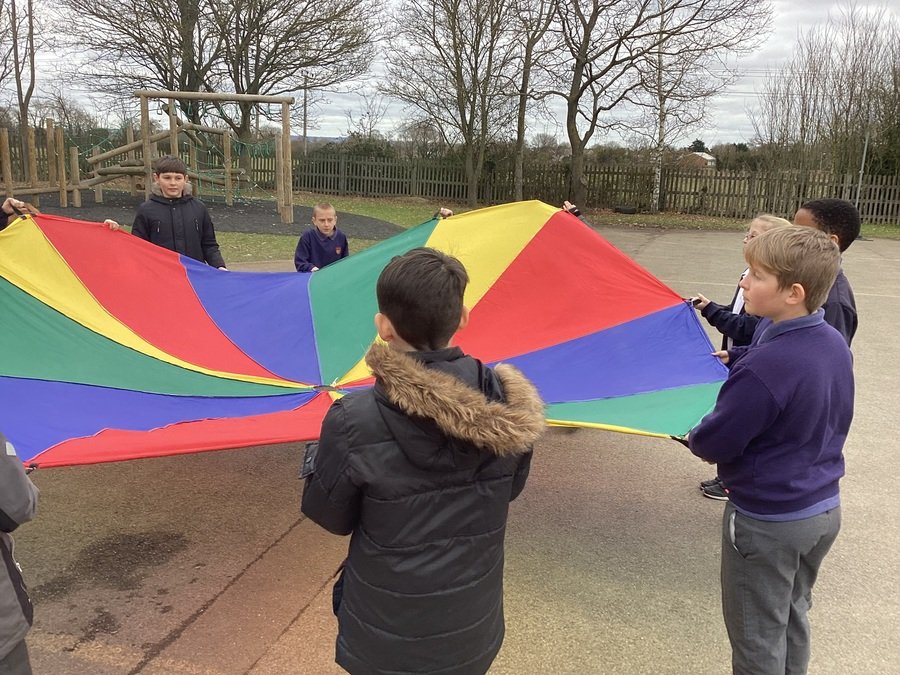 Maths and multiplication
This week in maths we have been learning about multiplication. We started by using base 10 blocks to understand the grid method and then used the written grid method to check our answers. We are now moving onto the formal written method and will start to use this to solve problem.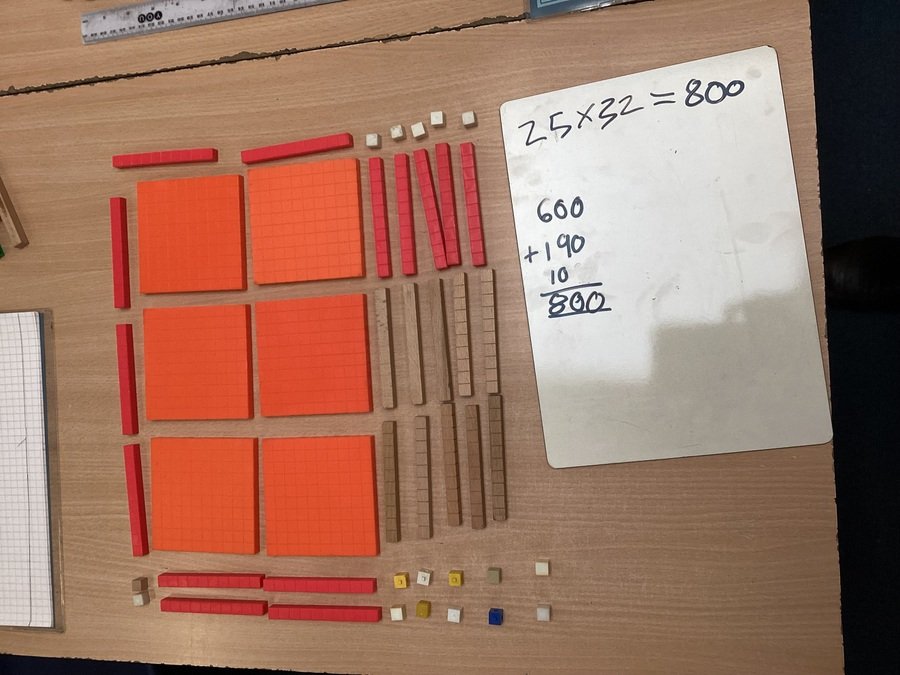 Cooking
Year 5 have been taking part in weekly cooking lessons to practise a range of important skills such as peeling, chopping, slicing and hob cooking. Today we made chicken stir fry and learnt about links to Chinese New Year. 30/32 of us said we would cook a stir fry again-success!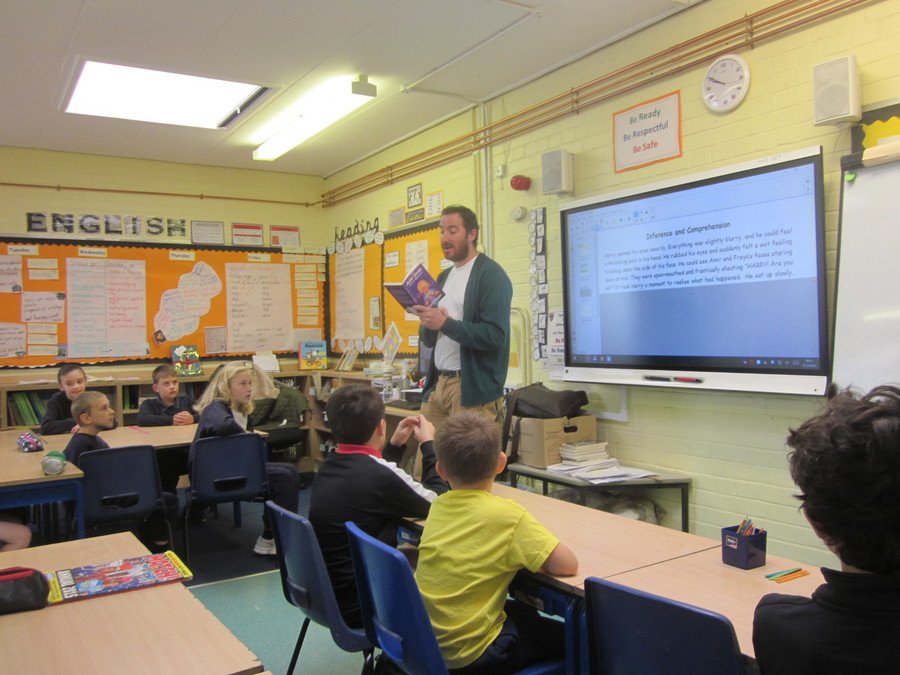 This week we had a very special visit from David Fuller, a real-life author! He spoke to us about how his ideas are turned into books and we learnt about the important of planning and checking our work. David explained it can take months of checking and redrafting before he is ready to share his writing and turn it into a book. He also read some of his latest creation to us and we were able to join in with actions and sound effects.
As part of black history month we have explored the text 'Look up' and learnt about Mae Jemison who was the first black, female astronaut to visit space. We researched more about her and found she was also a doctor and engineer too!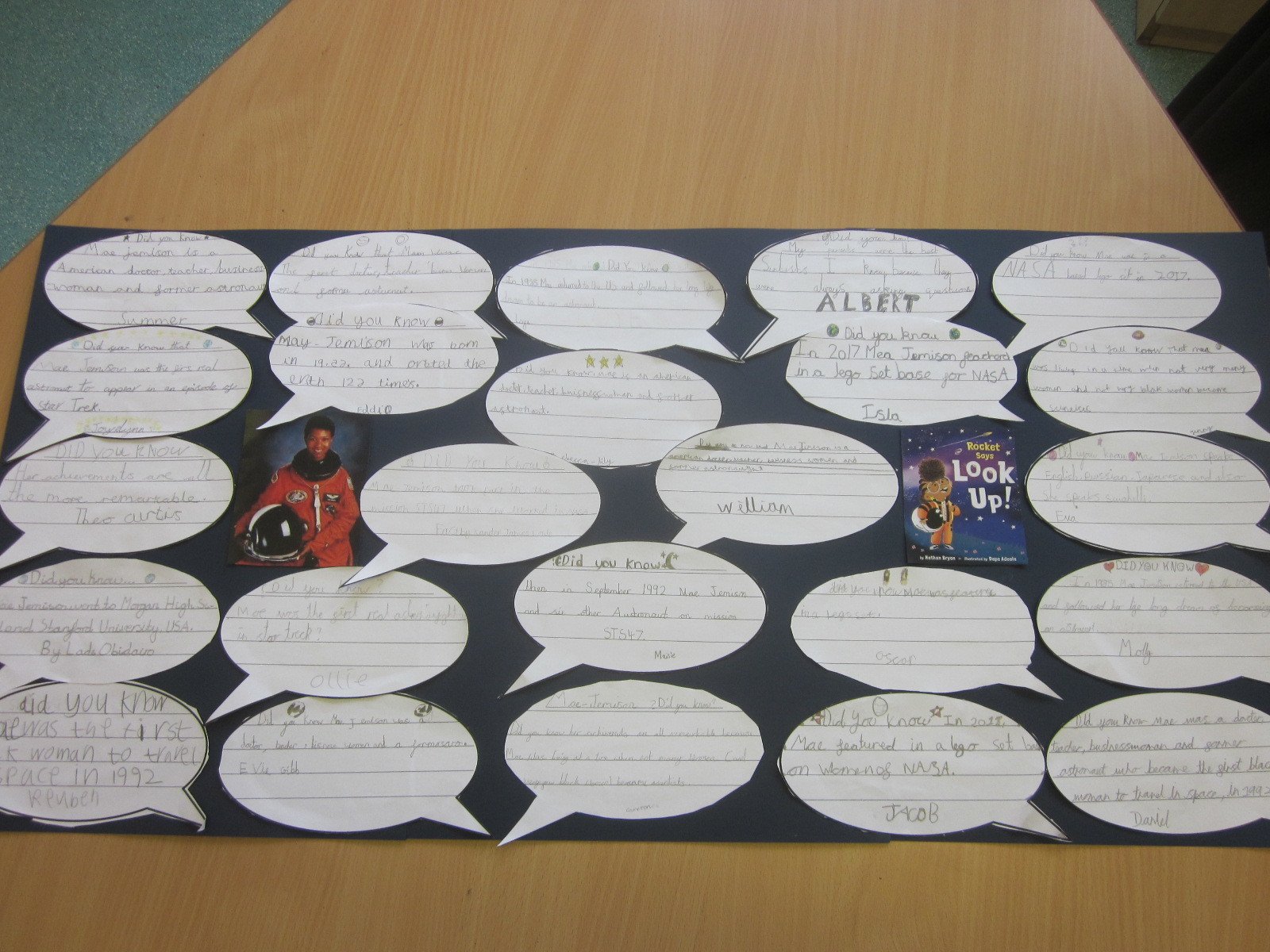 Excitingly, we were visited by the Fantastic Fred team this week who spoke to us about our wellbeing and how to stay fit and healthy. We learnt that Fred's name was actually a clue. Let us show you...
F: Food
R: Rest
E: Excercise
D: Devices.
We learnt that balancing these 4 important elements are key to feeling and staying well.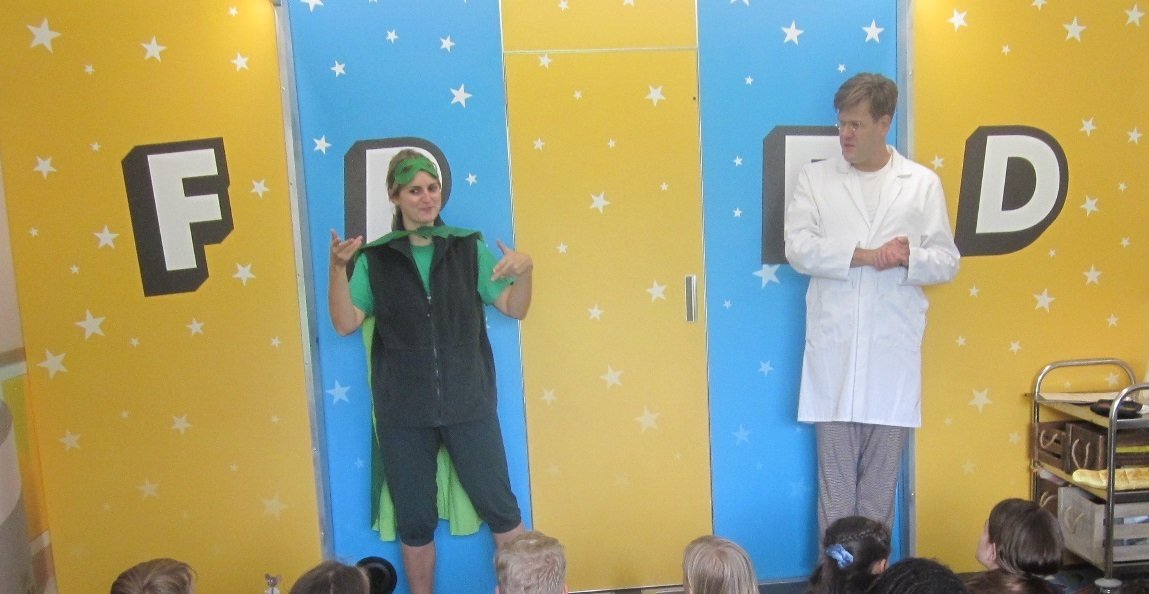 In Literacy, we have been exploring the text 'Arthur and the Golden Rope' and creating our own oral stories to share. Below are some photos of us rehearsing them.
In Maths, we have been learning about Place value. To help us we have been using a range of resources such as base 10 blocks, number discs and place value grids.
Our project this term is based on 'discover' and has a history focus. Within this, we have been learning more about Ancient Egypt. As part of this, we learnt about how they communicate including written language. Below are some of our cartouches we designed and painted using hieroglyphics.
We also took our map reading skills outside and located significant places onto a map of Egypt.