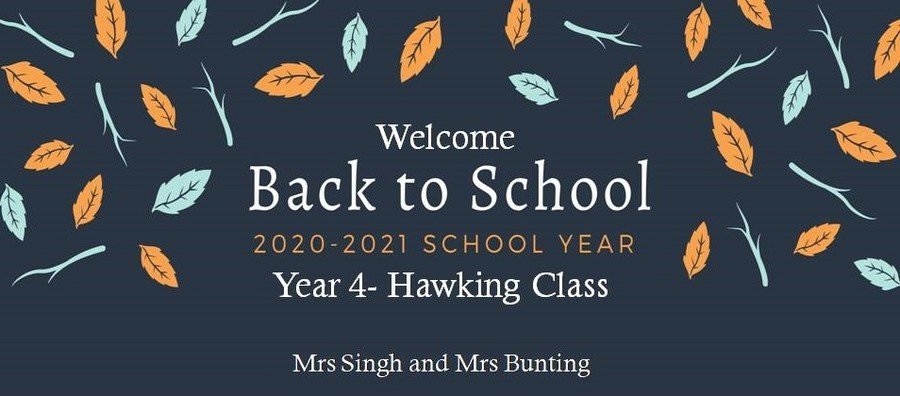 In Project work, we have been looking at traditional African textile, where we looked at their colours, patterns and symbols. We had a lot of fun exploring printmaking inspired by Adinkra cloth. Children discovered the history of Adinkra cloth (traditional African textile); they analysed the symbols and their deeper meanings. Children then recreated the symbols and carved them using potatoes. They also learnt the method of making dye from the bark of a badie tree, the calabash stamps and the process of printmaking. Children used tools to carve potatoes to make the stamp and then dipped it in paint to create the print.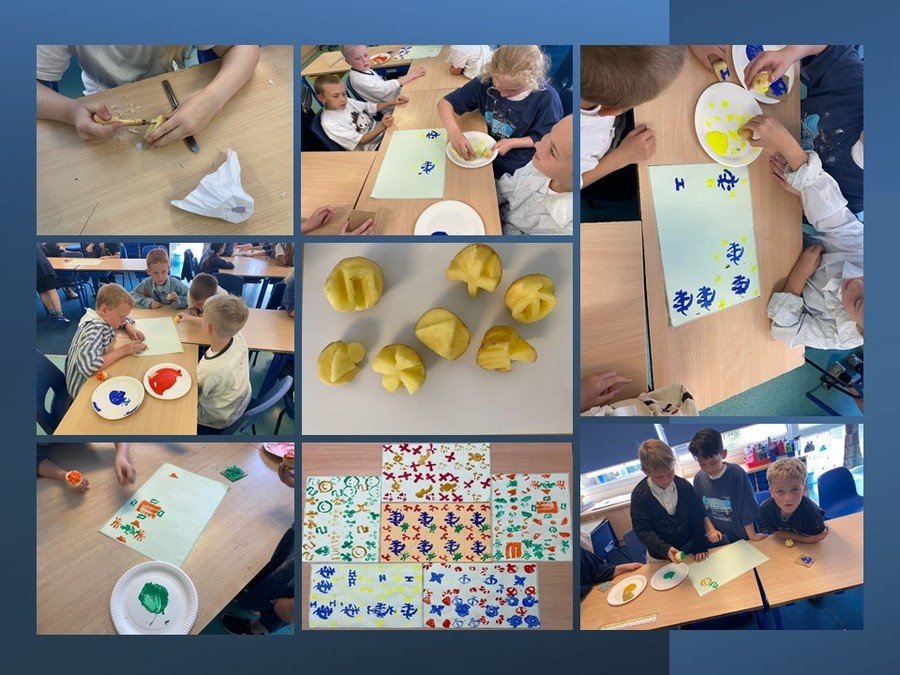 What we were up to in Term 4 - Have a look!
Year 4 made a fabulous start to their learning when back in school.
They explored the wordless book called 'Flotsam' by David Wiesner for the past three weeks. They used the illustrations from the book to create and retell a whole class version of the story. They also wrote a backstory for the characters, which was impressive as they linked it to World War times based on how antique, vintage the box cameras were. As a class, they decided they wanted to sell the box camera on eBay, so we created adverts using persuasive phrases. Finally, to finish this learning journey about the ocean, they decided to write a non-chronological report on the anglerfish (the creature of the deep).
In year 4, we have been spending a lot of time on SMSC/PSHE lessons. We have been spending time outdoors, allowing children to connect with their friends and nature. Along with sessions on self-calming techniques, we have also been looking at different stories/fable to explore other themes like:
Self-efficacy (self-esteem)- The Tortoise and the Hare

Gratitude - The Giving Tree

Connectedness/Teamwork - The Stone Soup




The Lion and the Mouse
We also had an anti-bullying day, where we created a comic strip for different scenarios, created posters to make people aware of different types of bullying and what we can do to STOP! We did an activity based upon the stimulus poem 'Samantha - Jayne' by Gervase Phinn.
The Year4 team are looking forward to welcoming you all back on Monday.
The letter below outlines all the key information you may wish to know for your return.
Celebrating Children's Mental Health Week - Express Yourself!
Term 3 -A glimpse of some of the amazing work that Year 4's have accomplished during their remote learning!
Class 4 have been working extremely hard in Literacy. They explored different forms of poetry last week, learnt the rules and understood the structure for each of the forms to create their versions. I was amazed to read their poems, I'm sure you will be too! Enjoy :)
In Science, we were learning about 'States of Matter' where children conducted their own experiments to investigate what happens to gas when it is heated. They also learnt about the water cycle and wrote an explanation text on that in Literacy.
In the Project, Class 4 have been really enjoying looking at the Settlements and Rivers. They have learnt about the features of a river, its journey from source to mouth and why rivers are important. They also went ahead and researched about erosion and deposition too. They now know the major rivers of the UK and of the world. It was interesting to read the facts they had researched, and how well they had presented it.
Along with our learning, we have also been looking after ourselves by doing walks, exercises and some mindfulness tasks!
An overview of Spring Term
Literacy
We are going to continue to work on spelling strategies and grammatical terms used in Year 4. In our writing lessons, our focus texts are:
"The Lost Thing" by Shaun Tan- we will be writing a diary entry and a persuasive letter

Various non-fiction books on rivers and water cycle- we will be writing a non-chronological report and an explanation text.

'Journey to the river Sea' by Eva Ibbotson - for comprehension skills

'James and the giant peach' by Roald Dahl- we will be writing a newspaper report and a persuasive advert

Poetry- 'Window' by Jeannie Baker, and we will also be exploring other forms of poetry such as: Haiku, Tanka and Cinquain
Maths
The key skills and concepts we will be focussing on this term are:
Multiplication and division facts for all the times tables

Multiply Two and Three-digit Numbers by a One-digit Number Using a Formal Written Layout

Divide Two and Three-digit Numbers by a One-digit Number Using a Formal Written Layout

Bus-stop method for division

Unit and Non-unit fractions; mixed number

Equivalent Factions, Ordering and Comparing

Add and Subtract Fractions with the Same Denominator

Finding Fractions of Quantities

Fractions in the Context of Measure

Introduction to decimals

Recognise tenths and hundredths and place them on a place value grid

Divide 1 or 2-digit numbers by 10

Divide 1 or 2-digit numbers by 100
Science
Our science topic this term is 'States of Matter: Solids, Liquids and Gases'. Children will learn about the different arrangement of particles in order to understand their properties. They will be challenging themselves to consider how some materials change when they are heated or cooled. They will also be setting up simple investigations to make careful observations, and to write a conclusion. They will learn to gather, record, classify and present data in different ways including drawings, label diagrams, keys, bar charts and tables.
Project
Our concept question is- Why are rivers important? Our exciting 'Investigating Rivers' lessons will help children to navigate their way towards an understanding of rivers, their uses, features and effect on the environment. Children will get the chance to study the water cycle, find out how rivers are formed, investigate why rivers are important and what they are used for. They will also research on river pollution and its effects, as well as comparative study of rivers around the world. Our learning journey will include:
Understanding of human and physical geography
To define a settlement.

To recognise different types of settlements.

To learn about early settlers and the characteristics of their settlements.

To understand how place names reveal information about a town's origin.

What would early settlers in Britain need and how would this affect where they chose to settle?

To understand that land usage in villages, towns and cities show many similarities.

To understand that land use reflects the main functions of settlements.

To be able to use an atlas to find out information

To be able to name and locate the major rivers of the UK and of the world

To be able to identify the continents and the oceans

What is a river? How are rivers formed? How do rivers grow? Where do rivers end?

If water is flowing down a river to the sea, why doesn't the river empty or run out of water? (concept of water cycle)

To name the parts of a river

To understand the journey of a river
Place knowledge:
Identify and compare human geographical features and physical geographical features of : the UK and Iceland (Comparative study)
Project Gallery- Anglo-Saxons and Vikings!
Class 4 have worked hard and discovered a lot about Anglo-Saxon and Viking times. They took their learning beyond the classroom by researching information at home and producing creative homework for the topic. Well done year 4!
Merry Christmas everyone!
Best wishes from all of us in Year 4
In Science, we have been busy investigating the busy world inside our bodies. We made a model of human teeth while learning the importance of chewing in the digestion process. Children discovered all the organs that are part of the digestive system, labelled them and explained their simple functions using scientific vocabulary.
In Year 4, after immersing ourselves in the story (legend) of Beowulf and watching clips on BBC Teach, we are now in the process of writing a newspaper report about the night Grendel visited Heorot and selected his first victim. To do this, the children used 'hot seating' last week and collected quotes from the helpless warriors who had survived the previous night's events to use in their newspaper articles.
An overview of Term 2
Literacy -We are going to continue to work on strategies to learn spellings and understand grammatical terms used in Year 4.
We will be looking at Myths and Legends in our writing lessons. Our focus texts are:
Beowulf- We will write a recount and a newspaper article
Norse Myth- We will be reading different Norse myths and then children will create their own myth/legend. They will be writing a set of instructions for a pet dragon too!
Poetry- Kennings
Maths -We will be focussing on Length and Perimeter of a rectangle and a rectilinear shape. We will then learn written methods for multiplication and division. The children will be encouraged to use mathematical manipulative such as multiplication squares and number lines in class to support them with multiplication facts. We will continue to work on times tables, children can practise using TT Rockstars.
Project -We are continuing with the theme "Anglo-Saxons and Vikings" in this term. Within this topic, we will be developing our knowledge of Viking life, culture, chronology and key events. We will go back in history to describe the Viking and Anglo Saxon struggle for England (to the time of Edward the Confessor).
Science -We will be on a voyage of discovery to investigate the busy world inside our body. We will learn about the organs involved in digestive system and the digestion process. There will be lots of investigating as we learn about our different teeth, how to brush them and how sugary drinks affect them. We will examine the amount of sugar in different foods to understand healthy and unhealthy diet. We will also be exploring food chains/food webs and its importance in maintaining the ecological balance.
We have been learning poetry in class 4. Children read 'The Sound Collector' by Roger McGough, and created their own verses following the structure of this poem. Here is a performance of our class poem!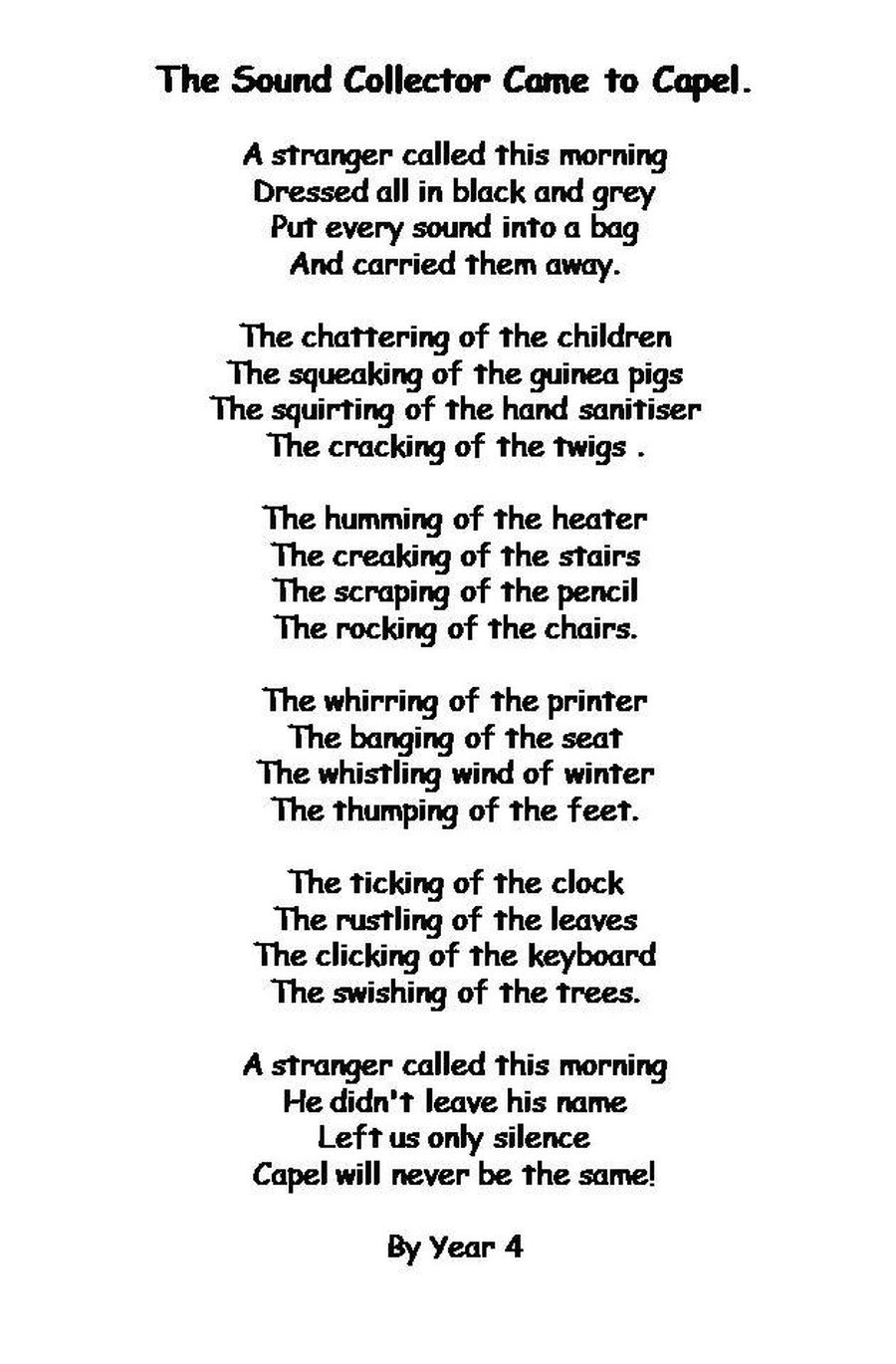 Surprise Surprise!
A letter from Mr. Tumnus came in the post this morning, children in year 4 are busy writing a letter back to him telling him all about the exciting things they do at Capel :)
While celebrating Harvest festival in year 4, children discussed about growing crops. They created poems to thank god and our farmers, for all the goodness and the food they provide! Here is a performance of the poem that they have learnt about a tiny seed growing!
Negative integers exploration!
Investigating Sound - Listen Up!
Class 4 enjoyed looking at the illustrations from this wordless picture book called "Quest "by Aaron Becker and then they narrated the adventure story using their own powerful story language!
We read books by the author- Peter H Reynolds and explored the power of YET! This is our class display showing our growth mindset. We believe in being positive about things we find hard or mistakes that we make! Let your imagination flow, be creative!