We are learning about number bonds to 10!
We have been using the different equipment in our classroom to help us learn our number bonds to 10. We have enjoyed using the part whole model, counters, unifix cubes and even our fingers!
Take a look at some of our photos!
Anti-Bullying Week: Change Starts With Us!
Anti-bullying Week is an annual UK event held across schools in November which aims to raise awareness of bullying. In Class 1. we talked about the value of kindness and the impact it can have on other people. We drew around our hands on a piece of paper and on each one we wrote one way that we would be kind to others in the future.
Once Upon a Time Party!
On the last day of Term 1, we had lots of fun at our 'Once Upon a time' party! We reflected on all of our learning in our first term in Class 1 and we shared our favourite fairytales!
We had lots of fun playing party games and we enjoyed tasting all of the goodies that everybody brought in to share! They were delicious! See some of our photos below!
We are looking forward to our new topic next half term!
Who's been eating my porridge?
Today, we received a very special email from the Three Bears!
To say thank you for our fantastic letters last week, The Three Bears delivered some delicious porridge for us to try! We tried Baby Bear's porridge which was delicious! We tried Mummy Bear's porridge which was very sweet! Finally, we tried Daddy Bear's Porridge which was very salty! We had so much fun and some of us even had seconds!
Understanding Place Value
In our Numeracy lessons, we have been learning all about number! We have been finding 'one more' and 'one less'. We understand the words 'smallest' and 'greatest' and have been practising comparing and ordering numbers!
Harvest Festival is Upon Us...
In Class 1, we have been getting ready for our Harvest Festival. We have been learning about the traditional British celebration in our lessons. Harvest Festival is celebrated in churches and schools. We celebrate the food that's grown and produced on our land - and we also help those in need by donating food items to charities and communities. We have put our class donations into a special Harvest box and we are looking forward to presenting it at the Harvest Festival. Here we are getting our special box ready...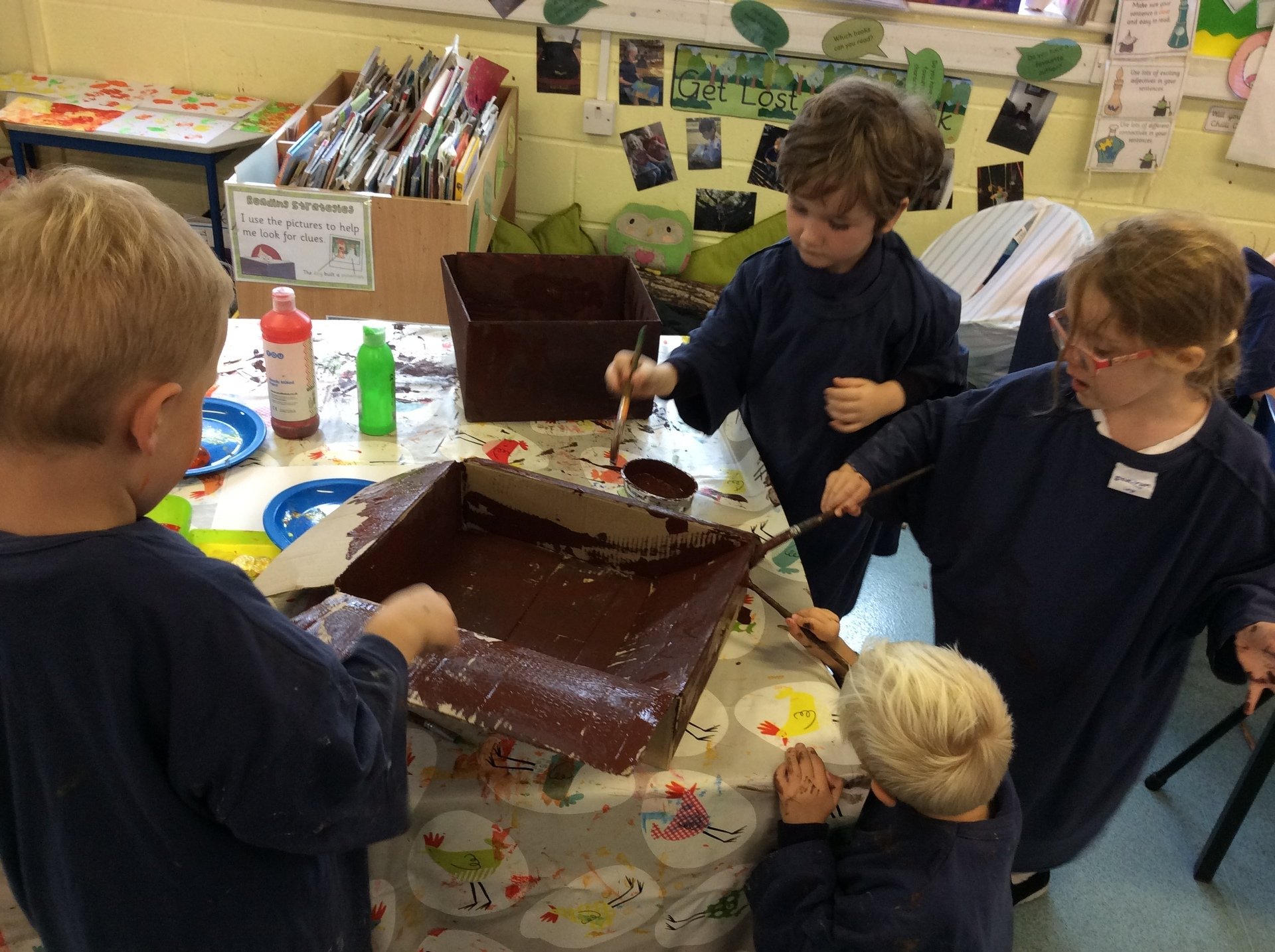 Class 1
Welcome to Class 1's web page!
We are known as Galileo Class after the famous astronomer, like him we love to explore, invent and learn from others. We take pride in listening to others, taking care of our environment and always trying our best!
Find out about everything we are doing in school below!
Class Information
Teacher: Miss Mills
TA: Mrs Chilman
Learning Information
Year 1 – Galileo Class Term 1
'Once Upon a Time'
Welcome back to school – we hope you have had a lovely summer. Welcome to Year 1, with Miss Mills and Mrs Chilman. We are all very excited for the year ahead and we are looking forward to getting to know and teaching your children.
Our aim is to ensure that the children experience a smooth transition from the Foundation Stage to Key Stage One. The Year 1 curriculum builds upon and extends the experiences that children have had in Reception. Learning through play will continue to be an important part of the school day, and the children will gradually be eased into more formal learning as the year goes on so that they remain motivated, enthused and eager learners. Please don't hesitate to come and see me either before or after school if you have any questions or queries.
Our first topic this term is 'Once Upon a Time'. In this topic we will be looking at familiar stories, and using all our senses to explore settings, characters and narratives. We will be focusing on discovering what makes a good story and will have a go at writing our own!
Throughout this topic we are going to be covering a range of writing and reading skills including, book reviews, captions, predictions, inferring, describing characters and settings, as well as focusing on capital letters, full stops and sentence writing!
During the term, we will be developing our mathematical knowledge of the number system and using our skills to solve problems and explain our understanding. We will be focusing most of our attention on place value and core number knowledge to support the year ahead.
In Science this term, we will be learning all about our senses and the body parts that use them. Throughout the term we will be using these senses to support our Literacy and Numeracy skills. Later in the term, we shall also be exploring the seasons; thinking about weather, months of the year and environmental changes around us.
Optional activities at home can include:
Reading a range of traditional and modern fairy tales.

Weather watching

Role Play and acting out stories (from books or made up).

Writing sentences about their favourite books, characters or activities.

Counting and more counting – up to 50!

Missing number games.

Visiting the library and enjoying books.

Cooking (and eating!), walks/adventures in the park or woods, working in the garden, etc. (using senses to explore these activities).
Main areas of learning:
Reading
Children are expected to have their reading book in school every day. They should read for a minimum of 10 minutes per day at home. This can be recorded on their personal bookmark by a parent or guardian by signing with an initial and date. Once the bookmark has been completed, your child will receive 5 Dojo points. As comprehension plays such a fundamental role in reading, please encourage your child to talk about what they have read and answer questions about the text. We will provide a 'Reading Questions' bookmark to support you with this!
Please reinforce all phonics learnt so far through games such as 'I spy', 'hangman' and any relevant computer games. The following sites are particularly useful:
Reading books will be changed once per week when they are read with individually, but feel free to explore other reading material with your child. I have attached to this letter a list of 50 recommended reads for Year 1.
Writing and Spelling
Alongside reading with your child (which will support their development in writing), allow your child to explore writing at home. This can be achieved through card making, shopping lists, story writing, or copying from their favourite book. Please find attached to this letter, a list of key words and a letter formation sheet. I have also attached the Year 1 common exception words which we will be focusing on in class. These are words commonly found in the English language, but which do not follow the phonic rules that have been taught so far.
Maths
Regular activities such as, playing dominoes, card games, counting objects, using dice in board games, telling the time to 'o clock' and 'half past' and measuring during cooking.
General Reminders:
The children will be doing PE on Mondays and Thursdays. Please ensure your child has their PE kit in school and that all items are clearly labelled. We encourage children to practise getting dressed at home to help them get changed quickly in school.
Homework will be given out on a Friday and will be due in on the following Thursday. Homework in year 1 will include a literacy-based activity and as this term progresses a Mathletics task. We will be introducing them to Mathletics in ICT and your child's username and password for Mathletics will be added to the front of their contact book. If you cannot access Mathletics from home, please let us know and we will find time in the school day for your child to complete this. There will also be a termly topic homework. More information about this will follow.

Any letters, messages or reply slips, which need to be returned, can be put in your child's contact book. These will be checked daily by either myself or Mrs Chilman. You will also be receiving a letter in the coming days about 'Class Dojo', which we also use as a main source of communication.

Show and tell will be held on a Monday for children to share with their class any achievements, family events or topic-based learning that has occurred.

Please can you send in any cardboard boxes and tubes (or anything else suitable) that we can use for junk-modelling. A steady flow of resources would be much appreciated (unfortunately, we cannot accept toilet rolls).
Thank you for continuing to support your child's learning. We are looking forward to a really successful year! Please don't hesitate to come and see me either before or after school if you have any questions or queries.
Miss Mills and Mrs Chilman
Down on the Farm Topic Projects
We had our topic gallery this afternoon. We all brought in some wonderful and interesting projects using the stimulus of 'Down on the Farm'
We loved sharing our work with our friends and teachers. They were really impressed!
Our School Trip to Godstone Farm!
Today we went to Godstone farm for our school trip.
We did lots of fun activities in the morning such as a minibeast hunt, tractor ride, feeding the pigs and meeting some interesting animals.
In the afternoon we were lucky enough to watch the piglet race. Wispa the blue pig won both rounds!
Before heading home we got the chance to go on the outdoor play equipment.
We had so much fun but are now exhausted!
Living and Growing Topic Gallery
Today we had our topic gallery, this meant we shared the topic projects we have been working hard at this term.
We have all put in a lot of effort and loved sharing our learning and creativity with each other!
Galileo and the Beanstalk!
As part of our topic this term we have been growing our own beanstalks in glass jars.
We have filled in a diary every week to see how the beans have changed and grown.
We have learnt about the different stages of a beans life and recognised when our bean had reached that stage.
We're all taking our beans home to plant them in our gardens!
Andy Goldsworthy Art!
We learnt about the natural art of Andy Goldsworthy and decided to have a go at using natural materials to make our own pieces of art.